While the UserVoice site warms up, we're relying largely on the responses to our recent user survey to shape the Seq roadmap. More than a third of respondents rated integrated Active Directory authentication as a top-priority feature, so we're pleased to announce support for it with Seq 1.6, freshly released.
If you're setting up a new Seq 1.6 server, you'll find a "Domain" entry field when setting up credentials for the first administrator: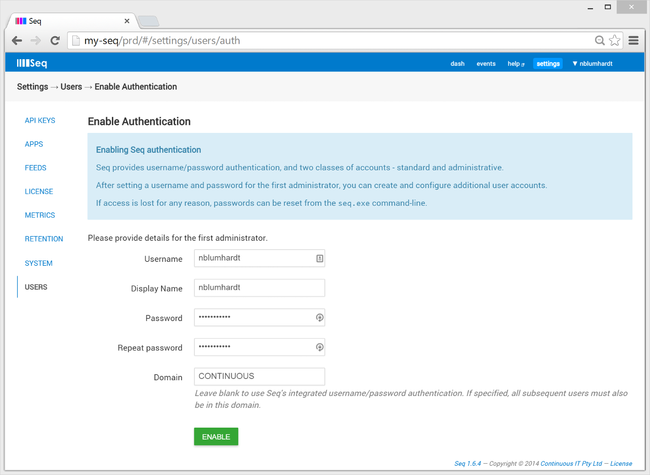 Subsequently, all logins will be validated against the specified Active Directory domain: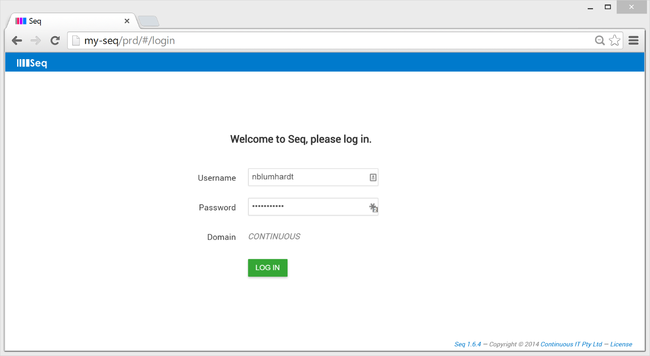 If your server is already configured you can change its authentication settings from the Settings > System tab. Existing users will be mapped to Active Directory users in the specified domain.
Supporting features like Active Directory integration that tie into (sometimes challenging) enterprise environments is a significant undertaking. We've decided to include Active Directory integration only in the reinstated Business (15-user) and Enterprise pricing tiers. (If you have an existing paid Seq license this feature will be included in your free upgrade path.)
We'd love to hear your feedback – tweet us what you think!